SPA
Spa, sauna, relaxing, exercising, a quiet moment for yourself or quality time with the family - what do you need today? Our spa is open all year round, you can enjoy our warm indoor- and outdoor pools during fall, winter, spring and summer. All seasons are special and unique.
Indoor pools
Indoors, we have the following pools: baby pool, therapy pool, jacuzzi, a two lane pool and a cold water pool. We have separate saunas for men and women. At the pool area there is a public steam sauna and an infrared sauna. You may also book our small private sauna (max. 6 people), which has its own changing room, toilet, showers and sauna. The private sauna has its own entrance to the spa area.
Entrance fee to the spa 10 € / adult, 5 € / child / student / senior
Outdoor pools
Our outdoor pools are heated all year round. Enjoy all seasons in cozy, warm pools. In the summertime the terrace is perfect for sunbathing and you can also order drinks here. Outdoors, we have the following pools: large pool 10,8 m, kids pool 8,3 m and two jacuzzis.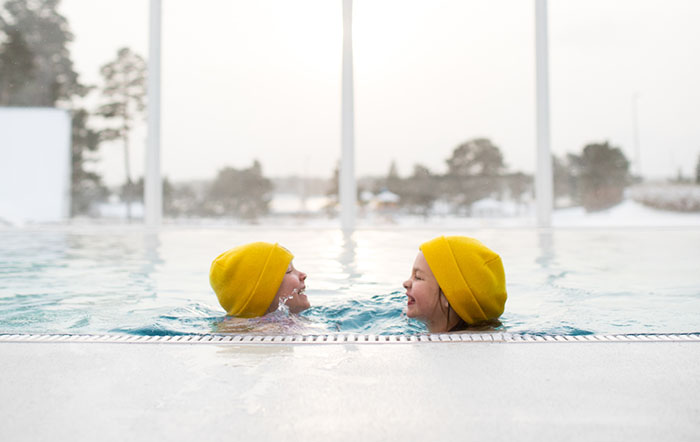 For everyone's safety and comfort
In order to secure the safety and comfort of all our guests, we would like you to acquaint yourself with the rules and regulations of our spa before visiting us. You will find the rules and regulations at the bottom of this page.
REGULATIONS KASNÄS SPA
doneSwimming time is 2 hours, including showers & dressing time.
donePlease remember to wash yourself thoroughly before entering the sauna or spa area.
doneDo not wear your swimwear in the shower or sauna.
doneSwimming is only allowed in swimwear or swim trunks.
donePlease mind other guests. It is prohibited to run, make disturbing noises or behave badly in the facilities.
doneJumping into the pool is prohibited with one exception, the deep end of the swimming lanes.
doneSmoking is prohibited everywhere in the spa building as well as drug usage.
doneSmoking is prohibited everywhere in the spa building as well as drug usage.
doneSafety is our primary concern, therefore it is strictly prohibited to be in the spa area under the influence of alcohol.
donePersons with contagious diseases are not allowed into the locker rooms, showers or pool area.
doneChildren are under parental responsibility. Children under the age of 10 must be accompanied by an adult in the spa.
doneWe recommend using a hat during winter in the outdoor pools.
doneSecurity- and regulations given by the staff must be followed. Those who do not follow given instruction may be forced to leave the spa.
donePlease observe that the law prohibits any kind of photographing in locker rooms and the showers.
doneWe are not responsible for lost or stolen items. We hold onto lost items (worth max. 20 €) up to one month.